A truck camper is a type of RV that is designed to be mounted in the bed of a regular pickup truck.  Truck campers are also known as slide-ins or cab-overs.  This design originated in the 1940's and is one of the most versatile RV designs because it can go anywhere a regular truck can go.  Here is some information on this practical style of RV.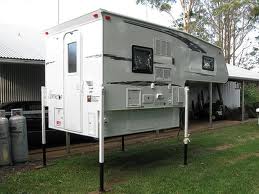 Truck campers are loaded into a trucks bed by using four jacks located at the corners.  The camper is raised enough for the truck to be backed up underneath.  It is then secured in place with chains or tie downs of some kind.  Generally, larger pickup trucks are best for carrying a truck camper.  To find out what size truck camper your truck can potentially carry, you must first find out your gross vehicle weight rating, or GVWR.  This is the total weight that the truck can legally carry.  To determine the size of truck camper you can use, subtract the weight of the truck, the weight of the fuel, and the weight of any passengers.  The number you get will be the safe weight for a truck camper.  You should also consider stored water and sewage in the RV and the weight of any items you would have in the camper, as well as your tires and braking capacity.  Although most larger trucks will work for a truck camper, long bed trucks are probably the best.  This is because they have a better weight distribution with the camper attached than the short bed variants.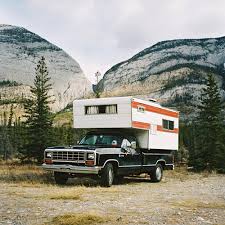 Although truck campers are fairly small and portable, they often times have most of the amenities that one would expect from much larger RVs.  They can have refrigerators, stoves, ovens, microwaves, bathrooms, and showers.  Amenities have to be squeezed into a smaller space, and the camper has to be strong enough to handle rough roads.  Because of this, they can often times cost as much as much larger RVs.
Truck campers are a great choice of RV for many people.  They work well for cowboys, hunters, or fishermen because a boat or horse trailer can still be towed.  They are also great for people who don't like traditional RV campsites because they can reach more remote sites.  However, they are not the best choice for full timers, people with large families, or people who want more space or luxury.
Decided that a truck camper is the best choice for you? Don't leave your RV uncovered, whether it's a truck camper or other style. For more information on covering your RV, visit our website at RVCoversDirect.com, or give us a call at 1-800-925-8602. We are happy to extend to you a discount of 10% off our online price, just mention this post!