It's the most spooktacular time of the year for camping!
Halloween camping can be very exciting for both adults and children. Campgrounds often host fun activities such as haunted hayrides, trick or treating, campsite decorations and tons of fun games for both parents and children.
But what if there was a campground that was truly haunted? Would you camp there? Do you know of any haunted campgrounds in your area? We will share a few rumored paranormal haunted campgrounds.
Catskill Forest Preserve, New York is the home of The Devil's Tombstone Campground. This campground is said to be the devil's favorite place to visit, it is the home of his tombstone. Several visitors have claimed to have paranormal experiences and sightings while staying at the campground. Sounds creepy, and gives me chills.


Lone Pine Campground, California has many scenic views, such as Mt. Whitney, which has the tallest peak in the Continental United States.  But that is not the only fascination with Lone Pine Campground. It is said that in the 1800's there was a sheep farmer named Mr. Lewis that cremated his wife and spread her ashes throughout the land the campground resides on. There have been many campers who claim to have seen a spirit of a woman walking the land, dancing at times, and often singing. Too scary for me!
Crystal Lake Campground, California has a story that will bring chills to the bone. It is told that in 1934 a worker helping to build the Crystal Lake Amphitheater was living on site with his wife and two children. They were staying in a tent when a grizzly bear tore their tent to shreds, killing each one of them slowly, leaving behind a mess of mutilated bodies. Campers have said they have seen both parents and children roaming around the woods and can hear voices. I am not sure I could handle that!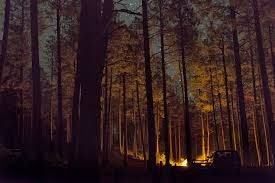 These are just a few of the many haunted campgrounds in the US. Are you brave enough to spend a few nights at a haunted campsite? What would you do if you saw a ghost or heard noises? Would you be courageous enough to investigate what you have seen or heard? I know I wouldn't!
Whether you stay at a real haunted campground for Halloween, or just a fun, family friendly campground, we hope you enjoy your stay. From all of us at RV Covers Direct…..Happy Halloween!