Class A motor homes are some of the most popular RVs sold today.  Many times they are referred to as motor coaches.  Unlike travel trailers, the driving space and living quarters are contained together in one unit.  They look similar to a bus, and the largest ones are built on a bus chassis.  The can also be built on a truck chassis or even have their own specially made chassis.  Class A motor homes can have either gasoline or diesel engines and generally cost between $50,000-$350,000, but the most expensive can be much more.  Here is some information including the advantages and disadvantages of this type of RV.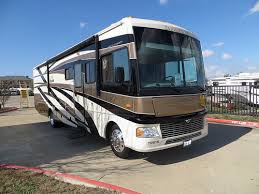 Advantages
The main advantage of the Class A is that it is generally the biggest of the RVs.   These can range anywhere from 24 to 40 feet long and can weigh between 15,000 and 30,000 pounds.  Their large size and boxy shape allow for more living space than other RV types.  You can choose between many different floor plans to suit your needs.  Class A's can even have slide outs that provide more space.  They can have all the comforts of home with fully equipped bathrooms, kitchens, bedrooms, entertainment centers, heating and cooling, and water heaters.  They can have room for up to 8 people to live comfortably.
Another advantage of the Class A RV is that they are a vehicle and home in one unit, so you don't need a tow vehicle.  This is a great option for people who want a large RV, but don't have a vehicle that can tow one.  Otherwise you would have to settle for one of the smaller classes, or buy a large trailer and a tow vehicle.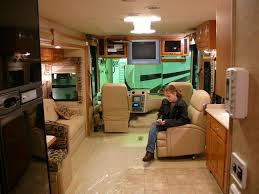 Disadvantages
Although there are many advantages to the Class A, there are also some disadvantages.  It's large size can make it difficult to drive and maneuver, especially if you have never driven such a large vehicle.  Also, the fact that it is a vehicle and a home can be a disadvantage.  With a travel trailer, you can set up your trailer at a campsite and still have the tow vehicle to go get supplies or to go sight seeing.  If you wanted to leave your campsite in your Class A, you would have to disconnect the electricity, water, and sewage before leaving, which would be more of a hassle.
Covering a Class A
Need a cover for your Class A or other RV? We can help! Mention you saw this blog post and save 10%!